Its Wednesday again. That terrible day in the middle of the week. Right before the fun Thursday and TGIFs happen...but right after crappy Monday and boring Tuesday. The day in-between, a boring day that does nothing but keep us away from the weekend and reminds us that Friday is sssstilll two days away. I feel like Wednesday Addams is laugh at us and being mean…What a bully! I do not like you, Wednesday!
However, there are a few ways of making Wednesday a liiiitle better:
and most important (of course) go for SUSHI!!
I know it's not Friday but you can still get a drink with friends on Wednesday.
There are some kick-ass parties in Wednesdays...discover them!
Wear that cute shirt you bought this weekend.
If you do not have a new shirt...go buy it right now! Spend the afternoon shopping and in mani-pedi to prepare for the weekend!
Get a delicious croissant at Le Pain Quotidien for breakfast.
Go to the Retiro park for a walk.
Cook some cupcakes!
Go to the gym and release all the bad energy!
Have lunch with family and / or friends…and remember! the more the merrier!
For this Wednesday, I am doing number 1, 5 and 9...you?
Happy Wednesday!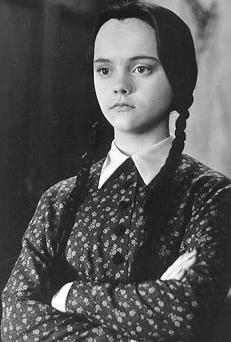 Es miércoles otra vez. Es un día horrible de la semana. Justo antes del divertido juernes y del maravilloso viernes, peeeeero justo después de asqueroso lunes y del pesado martes. El día del medio...es un día que no hace nada para nosotros. Es como el dolor de cabeza que no se va nunca y nos recuerda continuamente que aun te quedan dos laaaargos días hasta el fin de semana. Parece que la malvada Miércoles Addams se esta riendo en nuestras caras y siendo mala con nosotros...Es una bully!! No me caes bien, Miércoles!
Para acabar con la pesadilla de Miércoles Addams, he pensado en 10 cosas que podemos hacer para acabar con el síndrome de los Addams:
y el mas importante: ve a por SUSHIIII!!!

Aunque no sea viernes, vete a tomar una copa con tus amigos a algún sitio chulo

Hay fiesta muuuy chulas los miércoles...descúbrelas!

Ponte la camisa monísima que te compraste el finde pasado...no hay mejor día para estrenarla!

Si no te has comprado una camisa nueva...ve a comprarla hoy! Y de paso te haces una mani-pedi para relajarte y prepárate para el finde.

Tomate un croisant de Le Pain Quotidien para desayunar
Date un paseo y túmbate a dormir la siesta en el Retiro

Cocinate unas ricas cupcakes

Vete al gym y elimina las toxinas negativas!

Come con tus amigos y familia...y recuerda! Cuantos mas mejor!!
Este miércoles yo voy a hacer el 1, 5 y el 9...tú?